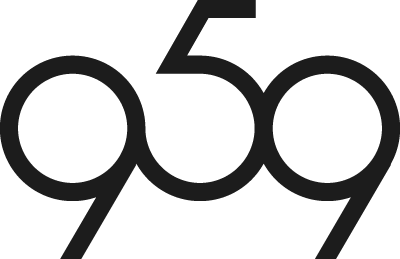 959 NINEFIVENINE® is an eco-design line, composed of pieces made with upcycled car seatbelts and innovative sustainable fabrics. A creative and versatile idea, carried out by designer Paolo Ferrari, who took the inspiration for the brands name from the year 1959 when Volvo introduced the first seatbelt on the market.
This link emphasizes both the importance of used materials and the values involved in the project like respect and care towards the people and the surrounding environment.
Each piece of the 959 NINEFIVENINE® collection, completely made in Italy, is the result of the reutilization and reuse of the seatbelts, which, after being washed, sanitized and divided according to their different textures, have been hand-cut, assembled and sewn in workshops. The eco-stylistic research conducted by Paolo Ferrari led him to introduce new materials such as Piñatex® and Seaqual®.
959 NINEFIVENINE® presents a unique series of items characterized by a distinctive, simple, timeless collection for all seasons , represented by iconic unisex accessories like weekend bags, backpack, pochette (clutch bag) ,shopping bags and by home furnishings such as containers and table accessories.
959 NINEFIVENINE® is a concept, style and project which links design, functionality, aesthetic through a creative philosophy in line with the current themes of contemporary living.
The UNEXPECTED BALANCE collection is an expression of aesthetic research, it is a fashion interpretation but also and above all a sustainable choice.
The UNEXPECTED BALANCE collection was born from the idea of combining materials in appearance in contrast such as upcycled Seatbelts, Pinatex and Seaqual.
The strength of the upcycled seat belt and the natural softness of Piñatex, an innovative natural textile made from waste pineapple leaf fibre by Ananas Anam, a company certified by B Corporation®, gives origin to a series of models characterized by strength, harmony and color. The elegance of the black seat belt meets the soft color of the Piñatex.
_P the clutch bag has been designed to be carried by hand, the bag has single internal compartment lined. _P can contain everything you need both for an elegant evening or for everyday use.
_S the shopping bag, a bag closed with a magnet has a lined main compartment and an internal zip pocket. The handles allow to wear the bag even on the shoulder. The shopping bag _S has been designed for both men and women.
_W the weekend bag has a large internal compartment and an open pocket for small items and features two external pockets for passports or wallets. The opening hidden by the seatbelt gives the bag a personal and essential visual. It can be carried by hand or shoulder, thanks to an adjustable and removable shoulder strap. The bottom is reinforced. _W has a classic and minimal design with a strong aesthetic character.
_B the backpack is equipped with a roll-top closure with velcro strap and features a spacious main compartment. The internal backrest section is lined with a shockproof fabric and features 15"laptop pocket. The backpack features an external pocket with zipper, for an easy and quick storage of a smartphone or keys, even when it is worn. The bottom is reinforced. It is completed with adjustable padded shoulder straps and a handle. The backpack _B has been designed to be functional and versatile, elegant and sporty at the same time.
_C the oversized drawstring backpack has a spacious main compartment and an inside open pocket to hold smaller items. Practical, light, without gender boundaries. The cords, which are both handle and shoulder strap, are made of recycled polyester. _C 100% upcycled-recycled.
The strength of the belts supports the lightness of the Seaqual, a fabric made of 80% Seaqual yarns and 20% recycled PES.
SEAQUAL operates SEAQUAL INITIATIVE, that promotes circularity in coastal communities and fights plastic pollution by creating value in waste, recycling plastic marine litter and industrial marine plastic, engaging NGO's, fishing activities, local communities , authorities and waste management companies to collect and sort the plastic and industrial marine litter.
959 NINEFIVENINE® has signed the License Agreement to use the Seaqual brand and support the project by using this fabric for its new collection of drawstring backpacks, which propose three themes: flowers, landscape and lifestyle.
Paolo Ferrari raised in the north of Milan, a district called Brianza, an area famous for some of the most iconic furniture companies around the world: B&B, Cassina, Poliform, Molteni & C, Vittorio Bonacina and many others, as well as of many craftsmen whose qualities are recognized everywhere in the world. This area forms he's cultural back ground.
He received his degree in Industrial Design from Politecnico di Milano.
After professional experience in various interior design studios, Paolo began his own activity, giving attention and research to fashion accessories and home accessories areas with attention to sustainability, as a fundamental value of his creations.
He has always shared the founding values and objectives of the UN 2030 Sustainable Development Agenda whose beating heart are the 5Ps: people, prosperity, planet, partnership and peace.